BRUNO Underground 30
Price Paid:
Approx. $2300 U.S. for head and 2 X 12" cab combo.
Features: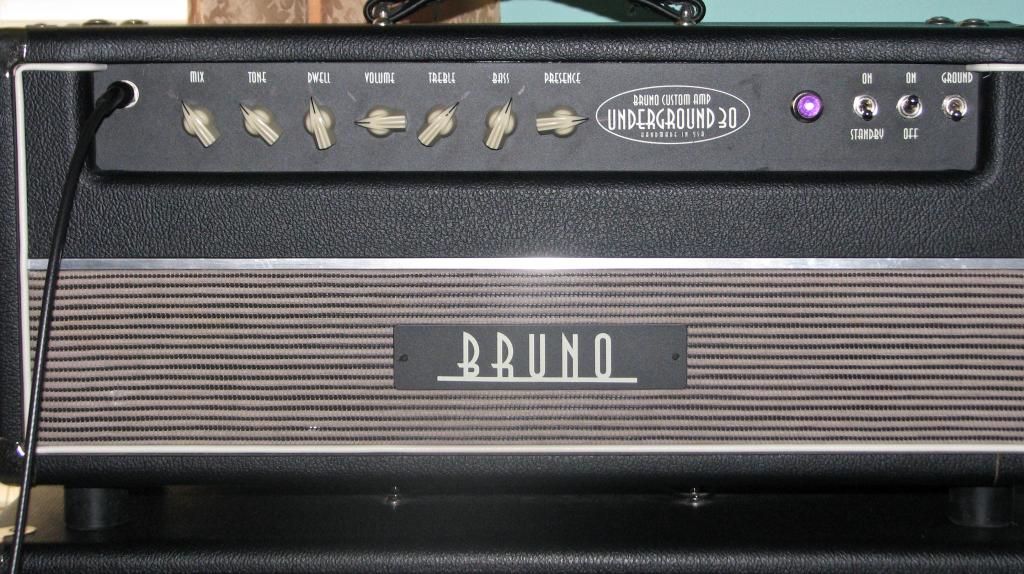 A preamp stage based on the '59 Fender Pro upgraded with hand soldered wiring techniques and components to "clean up" Fenders known design issues that sometimes resulted in "crackling" noises on the Fender originals. Three hand selected 12AX7s onboard.
A 36 watt Class A power amp stage based on the original Vox AC30 "Top Boost" 2 X 12" combo utilizing four hand selected EL84 vacuum tubes and a GZ34 tube rectifier.
A three knob reverb based on Fenders early '60s "stand alone" reverb head that Fender also featured on their Vibro-King combo. The reverb driver section adds one additional 12AX7 and one additional EL84.
The cabinets are constructed from finger-jointed solid pine with a birch ply speaker baffle. The 2 X 12 cabinet features a Celestion G12 Alnico Blue and a Celestion G12H30 wired in series.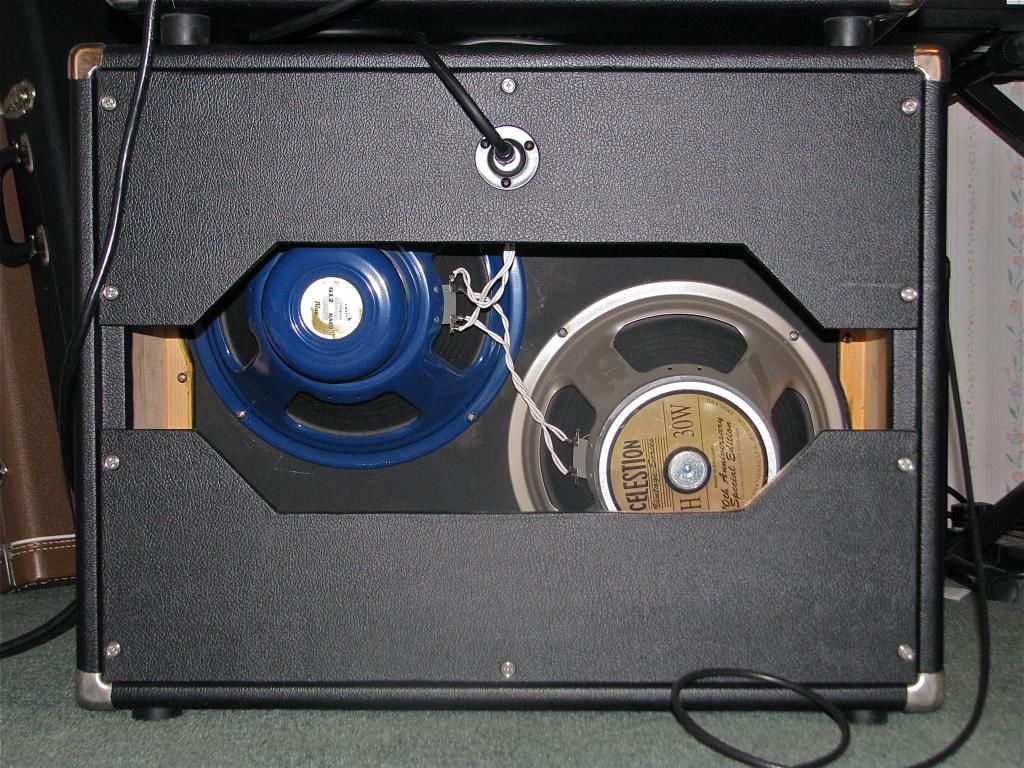 A faceplate with controls for Volume, Treble, Bass and Presence along with Reverb controls for Mix, Tone and Dwell. Front switches include Standby, Power and Ground Reverse. The rear panel contains two fuses, an output impedence selector for 4, 8 or 16 ohm, and two speaker outs.
Pros:
A single channel amplifier design with extreme attention to detail in the selection of components and original build techniques developed by Tony Bruno. Like James Bond's Tux with underlying body armor the Underground 30 has a black tolex covered furniture grade clear pine finger jointed cabinet with a heavy anodized steel chassis. All stainless steel screws and chromed steel corners. All hand wired and hand soldered point to point.
Based on Tony's conclusion that fiber board X humidity produced most of the "crackle" noises associated with early Fender amp designs he chose to lose the fiber board completely and suspend the main amp components between two parallel steel rails. Tony also chose to use different filtering techniques from the original designs.
All tubes are NOS. Original Ei EL84s as were used on the Vox AC30s. Hand selected 12AX7s in the preamp.
The four controls for the main amplifier, (volume, treble, bass and presence), are all smooth and dead quiet during adjustments.
The tonal range is outstanding. If you've ever used the "cut" tone control type circuits of Vox amplifier design you know what bright & crisp or less bright and muffled means. Tony dumped that part from his build and went instead with a custom designed tone control section based more toward the design of the '59 Tweed Fender Pro. In comparison to the Tweed Pro the Underground 30's bass and treble controls have a wider sweep and less effect on note definition when used at lower settings.
The presence control sweeps from smooth and syrupy on the low end to bright Marshall Plexi when set high. From dreamy to in-your-face. Single coil Stratocasters sound great with the presence set at one o'clock. I'm presently using my maple top / mahogany bodied Melancon with humbucker pickups and the three o'clock position is perfect.
The Underground 30's volume control starts out as clean as a Fender but with a bit more chime. Half Fender and half Vox. Half way up the dial the pushed AC30 tones take center stage. Overdriven bell like chime. With the use of a Butler Tube Driver and a little tweaking I find May, Gilmour, and Eric Johnson hiding between eleven and two o'clock. Higher settings, (in conjuction with a tweak up of the presence control), produce the grind of late '60s / early '70s Marshalls.
The 2 X 12" cab loaded with one Celestion G12 Anico Blue and one Celestion G12H30 Anniversary sounds outstanding. While I'd like to credit Tony with this combination idea I've found that both Mojave and Tophat amplifiers are often equipped with the same pair of speakers. The Celestion website also lists the Alnico Blue / G12H30 as a good pairing of Celestion speakers. I've also noted that this pairing is almost always wired in series just as it is in my  Underground 30. Standard Bruno cabs are usually two Alnico Blues in the 2 X 12's or one G12H30 in the 1 X 12's. I'm glad mine came with one of each.
The three knob reverb section produces the most beautiful reverb I've ever heard. Dwell sets the amount of ambience. Tone sets the tone of just the reveb sound. Mix allows me to choose the amount of clean vs. effect voicing the amp produces. Many consider the vintage Fender reverb to be the holy grail of this effect. The reverb Tony's built sounds and works like a mirror image of the original Fender design with two notable exceptions. Tony's tone control retains more distinction when used at lower settings and the backround "air" sound produced when a Fender reverb is engaged is less noticeable in Tony's design.
Cons:
I have to wonder if the high price of this amp is the only factor holding it back from higher sales figures. The chicken head knobs and grill cloth color and design promote an image of old fashionness and residing in an era of amplification that would be of little use to present day guitarists. This couldn't be further from the truth. The Underground 30 can be a perfect amplifier choice for producing Brian May, Eric Johnson, Slash, etc. tones right along with the best tones of the '50s and '60s. The limited number of controls for the amp sections, (volume, treble, bass and presence), just add to this misidentification.
The lack of an effects loop, (series or parrallel), will also put off some players. I too admit I would have preferred one  but, I have to assume the detriment to tonal quality this would have introduced forced it out of the build. If I had to pick between an amp loop or tonal quality I would have made the same decission. Go Tony!
Now, to be honest, this is not an amp for Metal guitar tones. There's no mid control to be turned down and the Underground 30 is tube rectified. Tony has chosen to provide the tonal quality of "sag" over the speed quality of solidstate rectifiication. You can't have both. In my case I'm very happy with Tony's tube rectifier choice. Some may feel otherwise.
Reliability:
Considering the research, build quality and attention to detail Mr. Bruno is noted for I doubt reliabilty will be of any concern. On the off chance that any problems should arise I've already been in contact with two dealerships that carry Tony's amplifiers and both are good to go with helping me out should any problems arise. During conversations with each I was told that Tony expects his amplifiers to last a lifetime and will personally service any issue that might occur. Being the second owner of one of his babies should be of no concern.
He builds each one by hand from scratch and takes pride in his workmanship.
Customer Support:
As stated above, I have zero concerns.
Summary:
The Bruno Underground 30 is simply the finest amp I've ever had the pleasure to plug into during my 50+ years of playing the electric guitar. I don't know if Tony and I are kindred souls when it comes to amp tone or if Tony just researched the subject to death, concluded what was best about each of the best, worked through trial and error to take the "bar setting" features from each and tweaked and improved upon those sections to perfection before combining everything learned and developed into the Underground 30. I've been playing through this amp exclusively for months now and still fine myself stupidly impressed by the tones this amp produces and the way it seems to form a perfect symbiotic relationship with whatever guitar I plug into it. All guitar body types, pickup types, etc. form a bond with the Underground 30 as soon as you connect the cord to the amp. I truly believe Tony Bruno magically combined the best of Fender, Vox and Marshall, took what they had and improved upon it and then melded the results into the finest guitar amp build to date.