Running Pedals and Rack Mount Effects Together
By yngwie666
You may like the sound of pedals such as the Boss Chorus, the Maxon OD9, the MXR phaser, and rack effects such as the Alesis Reverb, the Eventide delay. The problem is no multi-FX unit that can handle all effects perfectly.
Pro setups usually have best of both worlds, a pedal board with pedals and one ore more effects in a rack.
The inconvenience of the pedals is that if you can quickly get into tap dancing if you want to switch the TS9, Chorus, and Delay at the same time, in the middle of a song. So you can use a midi-controlled switcher that will switch several pedals on or off at a time when it receives a midi change program.
So my advice would be:
1. Start with a pedal board:
buy a good power supply (like voodoo Lab Power Pedal)
buy good cables or make them if you can solder (I used Mogami 2524 and Neutrik or angled TRS).
put some velcro on the pedals so you can arrange them conveniently. Consider noises issues. For example Wah pedals are prone to catch noises and should be as far from the power supply as possible.
Example:



2. You can then add a mini switcher to the board (example: Voodoolab pedal switcher)


The benefits are :
you can switch on and off a group of pedals at the same time with a true bypass
you eliminate unwanted pedals from you signal chain: let's say, you have a fuzz, an overdrive and a distortion pedal: it is unlikely that you will use those pedals together at the same time.
Example: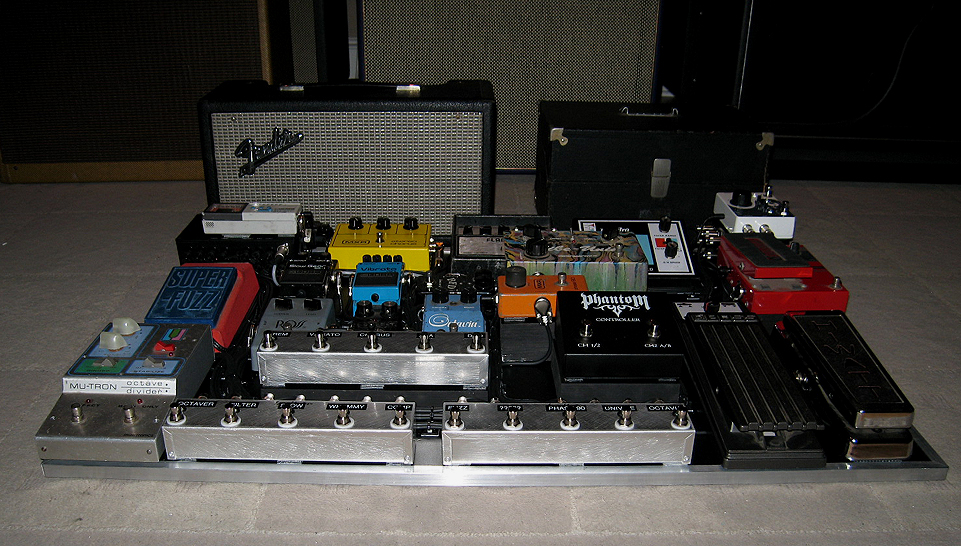 See a demo of the Voodoolab switcher here:
http://www.youtube.com/watch?v=FIRnr3xPLsE&feature=related

3. Add a midi controlled switcher to the pedal board. You can then control:
the switcher for your pedals
a multiF x or a reverb/dealy,...in rack format installed in a separate rack
Example: midi controller in the middle and the switcher is the black box labelled "Axess" in the middle range, left side:



3. Another option is to use a big midi controller on the pedalboard, with switcher and pedals in drawer both in a rack:
The big controller also lets you control instant access to each effect individually, because it's like having all pedals on the floor but you only use the midi foot controller to select a program or to switch one effect on or off.



Anything goes...